You're a veteran of DFS fantasy football or a total newbie. Either way, your eyes grew wide when you saw that sick $1 million grand prize for the first week of fantasy football action over at Draft Kings. It moved, I'm sure, too. That's cool, we're all built the same way in a sense, so we all are right there with you – we want the money, too.
Only one can win, though, so optimal lineups be damned, you're facing long odds to be that guy or girl. The beauty, of course, is that you COULD be the winner. You just need to enter a team. If you haven't already, I suggest you do, and the look over my example team I've put together that I personally like a great deal. I'll have many teams, and you probably should, too. Perhaps the most random as balls team will win. Check that, I guarantee the most random as balls team will win.
In fact, since I'm no way in hell breaking down the endless combinations, let's have some fun and look at this $1 million game from two ways: the logical sense and the ridiculous sense. Here are two teams, both of which surely could make you rich and both could still fail miserably. It may be up to you which one to totally fade in the end, or maybe you're have to find the perfect mixture somewhere in the middle. Either way, hopefully this helps you get closer to the MILS, or maybe I'm just trying to lead you astray so I can have it all to myself.
Let's get to it:
The Logical Team
QB: Matt Ryan ($7.5k)
Ryan is just a stable quarterback and he's about a cool grand cheaper than the most expensive guy – Aaron Rodgers. Ryan tends to crush it in week one, gets a weak ass Eagles defense and appears to be in mid-season form with Julio Jones. Even if Atlanta loses, they're at home and the thing they do the best is pass. Ryan is a lock for 250+ yards and two scores and should get you much better production than that if all goes well.
RB: Alfred Blue ($3.6k)
I'm not high on Blue as a talent, but Arian Foster is dead and he looks like the first guy to get a crack at the starting gig. It's true the Texans might share the rushing load and Blue could get stuffed by the Chiefs, but they won't have Dontari Poe, they're going to run a ton and Blue actually looked solid in his first preseason game. All of that is enough to take the dive at this super low price.
RB: Jonathan Stewart ($5.8k)
I don't love J-Stew more than the next guy, either, but until he goes down with the nine injuries he'll surely deal with in 2015, he's going to see the rock quite a bit. He's also facing a so-so Jaguars defense that bends quite a bit and he hypothetically could see the ball around 20 times to get the ball rolling. Just the upside alone is worth it at his price.
WR: Andre Johnson ($6.1k)
Johnson might be mildly regressing, but he has the best quarterback he's ever played with in Andrew Luck and is the #2 guy in a sick pass-happy offense. The Colts also go up against a studly Bills defense to start the year, and their only Kryptonite is the passing game. I suspect Indy passes a lot and Johnson puts up WR1 numbers in his Colts debut. He's better than Reggie Wayne and even Wayne had some nice PPR outings last year. And that dude had one foot in the grave. DK loves themselves some receptions, so Johnson is majorly in play and is also a nice price.
WR: Vincent Jackson ($$6k)
Jackson is not the safest PPR play, but he actually has a competent quarterback (hopefully) that at the very least knows how to chuck it up to big targets. The two connected on a big play already in preseason and they get a shaky Titans defense to get 2015 going. I like that and I like the price.
WR: Jarvis Landry ($5.6k)
Landry is just the PPR man's dream, so not much needs to be said here. He and Ryan Tannehill have awesome chemistry, hooked up for a score already in preseason and they face a bad Redskins pass defense to start the year. Oh, and rookie sensations DeVante Parker will be out or limited to start the year. Landry should at worst get you five catches and 50-60 yards, which gets you a nice 10-11 point spot. That'll do, but if he can chip in a score that's just gravy baby.
TE: LaDarius Green ($3.5k)
Antonio Gates is out and Green is in. Treat him as a more athletic, higher upside Gates and remember that Philip Rivers is no clown. San Diego gets a Lions defense that lost it's bite when Ndamukong Suh took his talents to South Beach, so there's plenty of opportunity here for Green to dazzle. He's only $3.5k, too, so the risk is low even if he does bomb. Looking for a safer option? How about Martellus Bennett? He's safe as balls and has had good success against the Packers.
Flex: Dez Bryant ($8.7k)
Dez is Dez and he owns the Giants. Everyone does, really, and I just have a feeling he's going to have a nice showdown/competition with Odell Beckham Jr. to kickoff the season. Also, you could go any elite wide receiver here. The point is to either get a RB you know is getting a ton of touches (specifically receptions) here, or a wide receiver you know is getting targeted all day.
DEF: New York Jets ($2.9k)
Todd Bowles knows him some defense and Gang Green has Revis Island and a nasty front line. Oh, and they get Josh McCown and the hapless Browns. This should be an ugly, low-scoring game, so it's a solid one to target – and at a decent discount.
Overall
I haven't won$1 million yet, but I'm here to tell you the last two years have been a son of a bitch in fantasy football. They've been unpredictable as hell and logic prevailing has not been the norm. That being said, things could even back out in 2015 and logic could be your new calling card. If so, the above team, or something like it, just might work out in week one. The idea here is creating a balanced team full of guys you know are playing big roles, have solid matchups and have a really nice chance to score or get solid yardage. Most of them are value plays, while we have at least one elite here in Dez. The other key (for me, at least), is to four wide receivers OR three running backs that are involved in the passing game. For this team I went with four wideouts.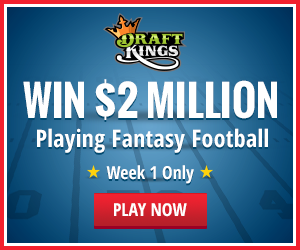 The Lucky as Hell Team
QB: Nick Foles ($5.3k)
Foles is making his Rams debut, doesn't have amazing weapons, really isn't that good in the first place so OF COURSE he'll torch the Seattle freaking Seahawks. This or Ryan Fitzpatrick throws five touchdowns, all on Joe Haden. You're gonna hate it.
RB: Jamaal Charles ($7.9k)
Charles is amazing, so I can't fault this play, but it's the Houston Texans, so the matchup isn't sublime. That being said, these asshole teams naturally have the elite plays that pan out, and of course Charles will crush after you say "F that, he's facing Watt" and fade him.
RB: Adrian Peterson ($7.7k)
Peterson has had a year off, he's got to be rusty, is 30 and you just don't believe in him for that price. He's also facing a Niners defense you seem to respect still for some reason. Oh, and he's on the road. Yeah, but he's Adrian damn Peterson and he's gonna drop 220 and 3 scores. Cuz that what he do.
WR: Demaryius Thomas ($9.1k)
Same deal here for the third guy in a row. Gotta get your elites when you're tryna win dose big buxxxxxx. DT certainly qualifies as an elite, but torching a solid Ravens defense after the Broncos supposedly got more conservative on offense doesn't make all of the sense. Oh, and you paid out of your butt to get him, but whatever, caution to the wind and such, right?
WR: Davante Adams ($4.4k)
Surely Jordy Nelson and Randall Cobb are better players after being about double the price, but you don't give any of the shits and use Adams, who conveniently scores three times. The hell?
WR: Eddie Royal ($3.9k)
Kevin White is no longer a thing, at least for now, and the tiny Royal can be a menace in the slot. He's also facing a Packers pass defense that has some young and unproven guys. Even if that's not enough reason to bite, you bank on the Bears getting their arses handed to them and they have to throw all day. Great plan, cuz Royal hauls in 9 balls for 112 yards and a score. And he cost $3.9k. Well played, sir.
TE: Virgil Green ($2.5k)
Remember when Julius Thomas went off in 2013 after no one gave him much of a chance? Yeah, well, here's that coming again. Green isn't Thomas, but he's athletic and Owen Daniels will burn everyone while Green scores twice. You "called it", so pat yourself on the back, ya jackass.
Flex: Jeremy Maclin ($6.9k)
Chiefs wide receivers scored exactly zero times in 2014 but you're cocky enough to think Maclin changes EVERYTHING. Somehow you're write, even with KC going up against a good Houston defense. Maclin's speed continues to kill as he takes five balls for 155 yards and, you guessed it, a damn touchdown. By a Chiefs receiver. To hell with everything.
DEF: Oakland Raiders ($2.3k)
You got the value plays you coveted and you got your three elites, but you needed one last dickish play to edge out everyone to win all of the money. It had to be the Raiders, who behind Jack Del Rio's underrated defensive mind find a way to stifle Andy Dalton by sacking him four times, picking off three passes and even take one to the house. The Bengals only score 10 points in an ugly 17-10 Raiders win and you feel like you're king of the world. Son of a bitch, you kind of are.
Ultimately, the chaos is coming one way or another. You can rely on logic or you can pick this year's week one devastator like Allen Hurns. Pick a side and finalize your team. Just remember that the winning team needs at least a little bit of crazy – or maybe none at all.