From last year to this year, most draft evaluators already know about the quarterback class. What can you takeaway from it? It's already better than the last years. Plenty of question marks surrounded the previous draft class but this current one is fire. That's what the kids call it nowadays, right?
Many pre-season rankings for college football already have Sam Darnold as the top quarterback with a combination of Josh Allen, Luke Falk, Josh Rosen and Mason Rudolph behind him. What falls behind those five quarterbacks though? There will be names such as Jake Browning, Baker Mayfield and Lamar Jackson. Another name that you need to know is Ryan Finley from North Carolina State.
He's listed at 6'4″ and 205 lbs., from Phoenix, Arizona. Originally, he committed to Boise State but transferred in the summer of 2016. During that time, he was granted a sixth-year of eligibility and also earned his degree after only three years.
Last year was his first season at North Carolina State and it was a solid one, at that. While the Wolfpack only won six games, the redshirt sophomore quarterback completed over 60% of his passes. By doing so, he compiled 3,059 yards and 18 touchdowns. It also took him 139 passing attempts before throwing his first interception on the season. Ultimately, he finished with 8 interceptions on the season and was throwing one interceptions per 50.25 pass attempts.
Many times, you'll see Ryan Finley out of a spread offense. Whether it's an empty formation (no running backs, just the quarterback in the backfield) or trips left (3 wide receivers to the left).  There's a wide variety of packages you'll see out of the spread and the Wolfpack do a great job spreading the football around. From running the ball to passing the ball, they're certainly unpredictable. Altogether, the Wolfpack threw 438 times and had 504 rushing attempts on the season.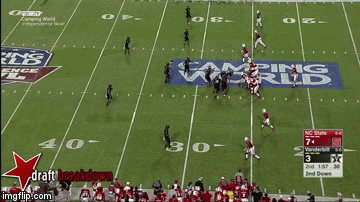 With this play, you'll notice the empty formation. Finley takes the snap and throws a quick strike between the numbers and hashmark. With this soft coverage, the play turns into a much larger gain than it's designed. It's a 7-yard throw and turns into more after the catch. On the season, Finley averaged 7.6 yards per pass attempt.
Another spread look from Finley and the Wolfpack. This is a designed screen pass to their H-back, Jaylen Samuels. H-backs and tight ends aren't supposed to move like this but this was great after the catch. With screen passes such a big part of the NFL, Finley will excel in a designed system with playmakers like Samuels.
Before this specific play, Finley missed on two straight throws. He had two open targets and missed both times. However, it's third-down and he redeems himself. His progression in the pocket looks natural and he looks comfortable with a formidable pass rush to his right. While the receiver runs an out-route, the timing of it couldn't be better. Finley fires a strike to his left and a first-down is gained.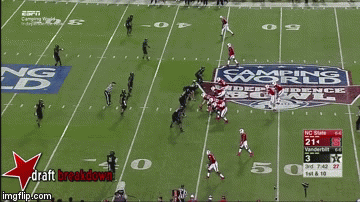 Much like every quarterback, not every play is going to be perfect. Finley throws a lot of quick passes but at times, he'll take shots down field. Here's a deep pass to his right that isn't terribly placed but it's not great either. There was great coverage on the play and the receiver had no shot of adjusting to the football. Ideally, this ball should be placed higher with it being a 50/50 throw but there wasn't enough air under it for that to happen.
After watching four games from Ryan Finley, this was a play that stood out. It was against North Carolina and it demonstrates what he possesses for a deep ball. Above, you'll see twins right and both receivers will be running vertical.
During the pre-snap process, Finley notices the nickel corner is approaching the line of scrimmage. While the nickel corner is approaching, a safety comes over and locks up on the slot receiver. To accommodate the blitz, he'll shift his running back next to him and the running back will kick out the blitzing cornerback. This allows a cleaner pocket for Finley and it results in a big gain for the Wolfpack. Below is the full play:
Throughout my pre-season breakdown on Ryan Finley, I found a variety of strengths and weaknesses. Some of his strengths are simple. He has the size at 6'4″ and doesn't seem to struggle reading defenses. With a spread offense, it forces teams to spread out defensively and not stack the box. This becomes his bread and butter with his 7.6 yards per passing attempt. He displays a strong arm with his quick strikes and doesn't struggle with getting the ball down field.
With that being said, there's certainly some ball placement issues. He doesn't always lead his receivers and doesn't always get enough air on the ball. This will lead to some mistakes from interceptions and deflections from the defense.
Without playing a down for the 2017 season, Ryan Finley is a quarterback with an early fourth round grade. If he has a strong season, he has the upside to hear his name in the second round. The only way to find out is by tuning into the Wolfpack and their action packed schedule. They kick their season off against South Carolina on September 2nd, 2017 in Charlotte, North Carolina.