Dust off your favorite jersey, stock the fridge and queue "It's the most wonderful time of the year." All of your favorite teams are back in action, football is finally back and the full slate of games are looking great on Saturday.
While this is only going to be the first game of the season for both of these teams, there's a huge expectation for both of them. It's being projected that whoever wins this game will go on and be one of the four teams in the college football playoff.
The Game of the Week is very clear. If you're not watching Florida State vs. Alabama on Saturday night, you're doing yourself a disservice. That game better be on in every bar, on every radio and in every man cave across the country.
#3 Florida State vs. #1 Alabama (spoiler alert – this will be prospect city)
In this game, we'll see Derwin James and Tarvarus McFadden from Florida State matchup against Calvin Ridley. We'll then see Anthony Averrett and Tony Brown from Alabama matchup against Auden Tate. While Tate is battling man coverage, he'll also have one of the top safeties for the 2018 NFL Draft class, Minkah Fitzpatrick from Alabama to worry about. To read more into those match ups be sure to check this out from my colleague, Chris Spooner.
There will be a lot of first round talent on the field within this game but I'm so intrigued with one player. That one player is Josh Sweat, DE, Florida State. Coming out of high school, Sweat was ranked as the top player in the country and then he tore his ACL. Even though he didn't play his senior season of high school, he only dropped to the 11th ranked player in the country and chose to play at Florida State. He now has one of the biggest games of his career. Playing against Alabama is never a small task for anyone, especially their offensive line. With Jalen Hurts being a versatile quarterback, Sweat will have to contain him off the edge. With 11 sacks and 7.5 tackles for loss last year, Sweat has great size at 6'5″ and 250 lbs. He needs to improve in stopping the run and I'd like to see more hip flexibility from him. Often times, he plays too stiff and it slows him down off the edge. Overall, Sweat can become a difference maker for the Seminoles and their front seven.
During this game, the better quarterback prospect will be Deondre Francois from Florida State. He's a redshirt sophomore but is eligible for the 2018 NFL Draft if he declares. One of the determining factors will be how well he plays against Alabama. There will be 17…yes, 17 NFL team scouts at this game. There will be plenty of eyes on Francois and he'll need to have an impressive showing.
In the throw above, he displays his arm strength and natural throwing ability. However, he misses his target and he misses throws, quite often. That's to be expected from a quarterback who has only played one season at the collegiate level. Francois finished the 2016 season with a 58.8% completion percentage for 3,350 yards and 20 touchdowns. It'll be interesting to see how the Seminoles offense is utilized without players like Travis Rudolph and Dalvin Cook. The pressure will be on Francois to have a good game but more importantly, a good season because he is now the focal point of this offense.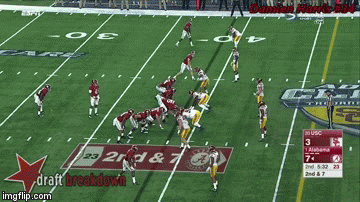 Year in and year out, the Crimson Tide have always had solid running backs. From the days of Mark Ingram to Derrick Henry. The list goes on and on. Currently, they have Bo Scarbrough who is extremely talented. He's tough runner and overall tough player. How he's still playing is beyond me. For those that don't know, Bo Scarbrough is injury prone and has been since high school. He's battled through torn ACL's to a broken leg. The possibility of him getting hurt again are high, but how much damage can he do on the field before the damage is done to himself?
Last year he finished with 11 touchdowns on only 125 carries. That's one touchdown per 11 carries. Finding the endzone has never been an issue for him but staying on the field long enough to do it consistently enough has been.
Luckily for Alabama, they've had quality backups who would be starters on most teams. For them, Damien Harris is that guy. He's a one cut back who displays good balance and vision in the open field. He lacks elite speed but he moves well for a player who's almost 225 lbs. The biggest downside to Harris' game is that he only has three touchdowns in his two seasons at Alabama. However, he ran for over 1,000 yards and led the team in rushing last season. If there's anyone that can change the pace of the game and be a difference maker on the ground, it'll be Harris.
Lastly the player I want to highlight is defensive tackle, Da'Shawn Hand from Alabama. The former number one recruit coming out of high school has been a huge disappointment. The expectations were high for him as a freshman but now they're even higher. Over the last three seasons, he's only played 24 games and has only recorded 11 tackles for loss with six sacks. That's not terrible when you're playing behind Jonathan Allen and Tim Williams, but it's not impressive for a number one recruit.
This can be the season that changes everything for Hand, though. He's entering his senior season with a big time star next to his name. For the senior defensive tackle, he needs to become more consistent with his hands and his overall effort needs to improve. But for Hand, the talent is clearly there, he just needs to put it all together on the field. The perfect time to solidify yourself is by having a big game against a quarterback like Francois who might not be quite ready for the big stage.
For Alabama and Florida State, there is going to be a ton of talent on the field and it's sure going to be a treat.