You can talk about Saquon Barkley and Derrius Guice, all you want. Personally, I get it and I'm a fan of both players. What about the rest of the running backs for the 2018 NFL Draft class? My first article with Breaking Football could be an absolute fan page of Michigan State's, LJ Scott. However, I want to Make the Case for Kalen Ballage out of Arizona State.
It was surprising to see Kalen Ballage return for another season. Many thought he was going go pro in this past draft but he didn't. With that being said, I'll be the first to let you know, he's going to be MUST SEE TV. Ballage doesn't do one thing right, he does a combination of things. He's fun to watch and below are some clips of what you can expect from him.
Arizona State runs a variety of offensive formations. Here's a pistol-set that sends Ballage in motion and out to catch a swing pass. What he's able to do after-the-catch is what makes him so fun to watch. He gets yards after-the-catch and is able to get the edge, up near the "sidewalk" (sideline).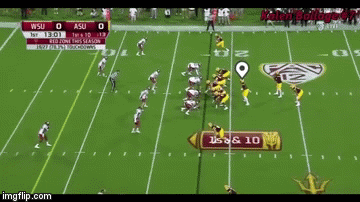 After two seasons, Ballage only had 18 receptions but that all changed during his junior season. He finished the 2016 season with 44 receptions, 469 yards and a touchdown. Being able to run a variety of routes is what makes Ballage so versatile coming out of the backfield. With that alone, he should have a place on a team, at the next level.
Remember how I said that they like to run a variety of formations? Below you'll see Kalen Ballage lined up in the Wildcat-formation. He takes the snap, finds a lane and is just off to the races. This won't happen every time but you can be assure that he powers forward for positive yards, at will.
Lastly, we don't have any funny business. No swing passes or wildcat runs. We've got Kalen Ballage, lined up behind the quarterback. Once taking the hand-off, Ballage jump cuts and gets up the sideline at ease. Barreling his way to the end-zone, he makes it look easy once he's in the open field. This was just one of the many plays that I enjoyed watching of him.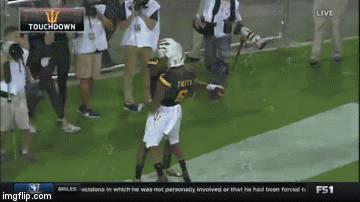 From an offensive usage perspective, Kalen Ballage ran the ball just as much in 2015, as he did in 2016. However, he caught 32 more passes last year than he did in the 2015 season. Reaching 300 carries probably won't happen for him this upcoming season but he should reach over 200 plays from scrimmage. That's something he hasn't done in his career yet but he did rush for 14 touchdowns last year. An impressive feat and I'd expect him to be one of the most efficient running backs this season.
When watching him, I see a lot of David Johnson. Consider that too bold or whatever you want but that's who he reminds me of. He's jack-of-all-trades type of back and shows similar vision to David Johnson. Will he ever be as good as Johnson? Time will tell, but Ballage has the upside to become one of the best running backs in the country.