First, there was Rishard "Hollywood" Higgins. Now, there's Michael Gallup. Over the last few years, productive wide receivers have been coming out of Colorado State and they've been fun to evaluate. Entering the 2017 football season, I've spent countless days watching film. In reality, I'm trying to find what makes the heart of this draft class, beat. The discussion for top players at each position will remain relevant throughout the course of the season. What falls behind the top of the class though?
Walking around the campus in Fort Collins, Colorado is a player by the name of Michael Gallup. You may or may not have heard his name. Whether it's from how productive he was last year or maybe you sat atop of the stands of one of his games with a depth chart in your hand. Needless to say, you'll find his name atop of that depth chart. In just his first year at Colorado State, he produced, at an extremely high level.
Despite losing to Idaho, in the Idaho Potato Bowl, Gallup finished the season strong. Alone, he had three touchdowns in that game. Overall, he finished the 2016 season with 76 receptions, 1272 yards and 14 touchdowns. Before you put milk into a taco shell, that's not a typo. Now ask yourself, why haven't I watched this guy? To be honest, I'm not sure. Here's the best part, now you can.
Throughout this evaluation though, I noticed the inconsistency with run blocking. Above, you'll see hesitation. Below, you'll see a solid block from Gallup. Keep in mind, no receiver will be sticking blocks like an offensive lineman. However, you want to see a consistent effort from a receiver.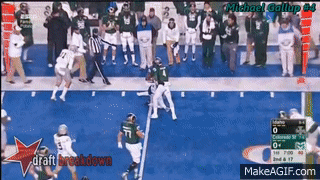 From a route-tree perspective, Gallup is productive all over the field. From running vertically or stepping off the line and catching a screen pass. Below is one of the many screen passes he catches and then turns it into a positive gain.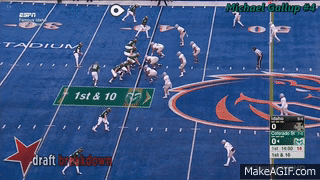 Later in this game, Gallup runs a solid post route and adjusts well to a poor throw. He can do this at almost anytime during the game and when he does, he has a tendency to come down with a reception.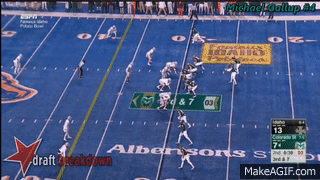 Below we'll see a sluggo route (slant and go) ran by Gallup. He slips right behind the safeties and scores a touchdown. While you'll notice a 34 deficit on the scoreboard, Gallup does everything he can to make this game. This was his first touchdown of the game, ultimately, ending up with three of them.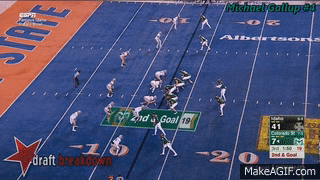 Preparing for the college football season is always fun. There are countless number of players that make the list as draft hopefuls. Gallup will be one of those players and he should be on your "must-watch" list. Last year, he was a touchdown machine. He scored a touchdown in 10 of 13 games and had six games where he recorded over 100 yards or more.
Is Gallup the most clean and crisp receiver in this draft? Unfortunately, no. In parts of my film evaluation, he looks sluggish and doesn't always attempt to block on running plays. And when he does attempt to block downfield, he has the tendency to miss that block. However, his hands are consistent and is a consistent route runner. There will need to be some work on sharpening some of his routes and not rounding them off.
There's no denying him from a production standpoint and last year was just the start. As the 2017 college football season approaches, Michael Gallup needs to garnish more attention. I look forward to seeing him taking a step forward and not a step backward.