Guys, there are preseason NFL contests available on Draft Kings this weekend. This is not a drill. We've reached peak insanity.
How do you even succeed at this? I DON'T KNOW. Seems like you just have to find a bunch of spares/young players that are going to wind up playing a lot. Obviously, this means you shouldn't bother wasting time drafting guys like Tony Romo and Adrian Peterson, because they're hardly going to play…if they even play at all.
Every player available costs $5500, so pricing isn't a factor. Which is nice, because this is probably difficult enough already.
Anyway, let's start with QB and try to win us (and you) some money: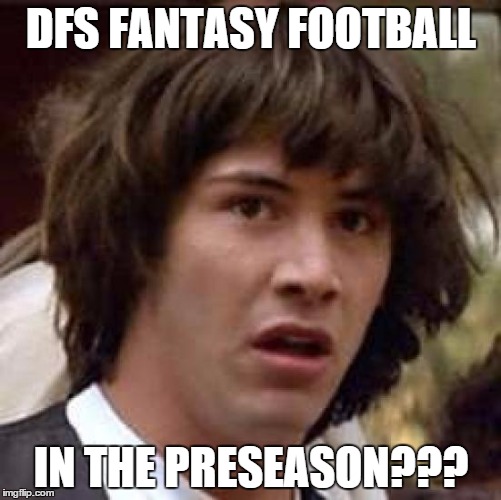 Quarterbacks
See? We're starting with QB. The most obvious road to take when selecting a fantasy passer would be to target teams with ongoing QB battles in camp. Given the slate for this first DK game, though, our options appear limited. The Jets, Browns and (maybe?) Redskins are the only teams whose starting QB situation could be up-in-the-air at this point.
As for the Jets, this means we're talking Ryan Fitzpatrick, Geno Smith, or Bryce Petty. Excited yet? With Geno seeming the odds-on favorite to start the year as the team's No. 1, we could see Fitzy and Petty duking it out for the backup gig. I would imagine The Beard will see the lion's share of time in this game, so he's not a bad choice if you want him. I also like Bryce Petty a little bit, but who knows how much he's going to play?
With the Browns, we're talking about Josh McCown, Johnny Manziel, Connor Shaw and Thad Lewis. McCown appears primed to be at the helm for the Browns to start the season (which is so very Browns), so expect plenty of Johnny Football and Connor Shaw here. We know already what Manziel brings, which isn't much outside of scampering around. Maybe he's improved his passing? Who knows. Cleveland will be taking on Washington in this game. I'd like Manziel even if it was Washington's crappy starters, but he'll be getting a nice look at their spare second- and third-unit players. There's also word that he could be playing alongside some Browns starters, which seems exciting, but it's the Browns, so they probably suck anyway. JFF will be a very popular option, I reckon.
As for those Redskins, we've got RGIII, Colt McCoy and Kirk Cousins doing battle with one another. All of these guys started their fair share of games last season, and all of them were also benched, so this will be lots of fun. Considering Griffin is made of glass, I doubt Washington will be willing to risk him in the first damn preseason game. McCoy and Cousins should both play a good amount. Hutson Mason is also listed as a QB on this roster, but I think he's just a Madden create-a-player.
Landry Jones ('memba him?) is getting the start for Pittsburgh Sunday night, and apparently there's a chance he could play deep into the second half, or even the entire game. Hard to beat that. He may be terrible and all, but if you can find a guy that's gonna get significant playing time, that's kinda the name of the game with this preseason stuff.
Another popular QB target will be Jimmy Garoppolo of the Pats, because obviously the team has to get him ready to start the first four games of the regular season. He'll be playing with starters (for at least a series), which gives him an obvious edge over the guys that'll be surrounded by training camp invitees and guys that work at Wendy's for most of the game.
Looking at the leaderboard from last preseason, we see the likes of Kellen Clemens (Chargers), Dan Orlovsky and Kellen Moore (Lions) and Jimmy Clausen (Bears). Any of these four figure to see a decent share of time on the field, so they're not awful options, either, even though they are, indeed, awful.
Running Backs
Lorenzo Taliaferro of the Ravens led the league in preseason rushing yards last year (243), which is quite an honor, indeed. Hopefully he got a plaque for his efforts. He's still there and taking on the Saints, so perhaps he's interested in defending his rushing crown. In the same game, Khiry Robinson could see a good amount of work for New Orleans.
Matt Asiata rose to semi-prominence last season in fantasy football due to the absence of Adrian Peterson. Wouldn't be overly shocking to see him find the end zone here. Ditto for Jerick McKinnon. As for the Steelers, I can't imagine we'll see much at all of Le'Veon Bell, Ben Tate or DeAngelo Williams, so that would put someone like Dri Archer in play, perhaps.
Hey, remember Jonas Gray of the Patriots? Yeah, he had that one awesome game, showed up on the SI cover, then we never saw him again. But he's here! Maybe he's actually good! Give him a shot. New England also has Brandon Bolden and former Saints man Travaris Cadet, but Gray's probably the best of that bunch.
Some other guys that could see a decent workload are Bilal Powell (Jets), Ameer Abdullah (Lions), Isaiah Crowell (Browns), Lance Dunbar (Cowboys) and Branden Oliver (Chargers). Maybe even Melvin Gordon? Tough to say how much the Chargers will be willing to risk their prized first-rounder, though.
Wide Receivers
We'll see a handful of WRs nobody's ever heard of randomly breakout and have huge games in the preseason, so forgive me if I don't exactly nail it here. Regular season DFS fantasy football is hard enough, you guys.
Dontrelle Inman of the Chargers was one of these guys last year, as he had a three-catch, 107-yard, TD-scoring effort in the first game against the Cowboys. After that, we hardly heard from him at all. Could be worth a look, though. Devin Street could be your best bet among Cowboy pass-catchers.
Markus Wheaton and Martavis Bryant are a couple of Steelers to target, while Jeff Janis is a Packer on my radar a bit. Brandin Cooks of the Saints was a standout last year, though he could easily be one of those guys that plays one series and leaves. Nick Toon could be the Saint you want.
Jarius Wright of the Vikings had a couple of pretty big games last season, so let's throw his name into the pile.
Ryan Broyles of the Lions could be looking to make an impact in the first game, provided his knees can actually hold up. Saalim Hakim (Jets) is the younger brother of former Rams punt returning enthusiast Az-Zahir Hakim. So that's neat.
Tight Ends
Are you still reading this? I appreciate it. Also, I apologize.
Gavin Escobar (Cowboys) is probably my favorite tight end. He's a super athletic pass-catching type that could be in for a breakout season. The Chargers' Ladarius Green was everyone's big sleeper last year, and that didn't quite work out. Still, though, he could be a nice option for the preseason, especially with Antonio Gates suspended the first four games.
Detroit's Eric Ebron is another guy to watch, as is Jace Amar0 (Jets) if he plays. I'm going to mention MyCole Pruitt (Vikings), but only because that is probably the most insane name I've ever seen. I'm guessing it's pronounced "Michael"? Either way, it's awesome. Hopefully he scores and stuff.
D/ST
The Packers and Patriots each scored 9 defensive touchdowns in preseason last year, per NFL.com. That seems like a lot. The Saints scored 8. The Redskins had 6 interceptions, which led all teams available this week. The Vikings and Steelers each led the way with 12 sacks. I don't really know what else to tell you here. Crapshoot of all crapshoots.